Description
pattern:
A. 4 snaps turn-down collar elastic cuff 1 pocket
B. 4veleros turn-down collar opening cuff 2 pocket
C. 4veleros standard collar elastic cuff 0 pocket
D. Zipper knitted collar knitted cuff 2 pocket
Note: These specifications are only for reference, please kindly advise us your detailed requirements, then we can customize for you.
More information
1. Payment: T/T in advance; 50/50 at sight.
2. MOQ: 200 Cartons
3. Loading port: Wuhan/Shanghai
4. Delivery time: 30days or depend on the order quantity
5. Sample: Could be prepared on request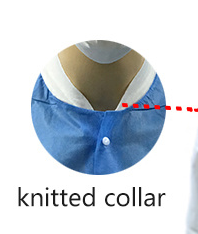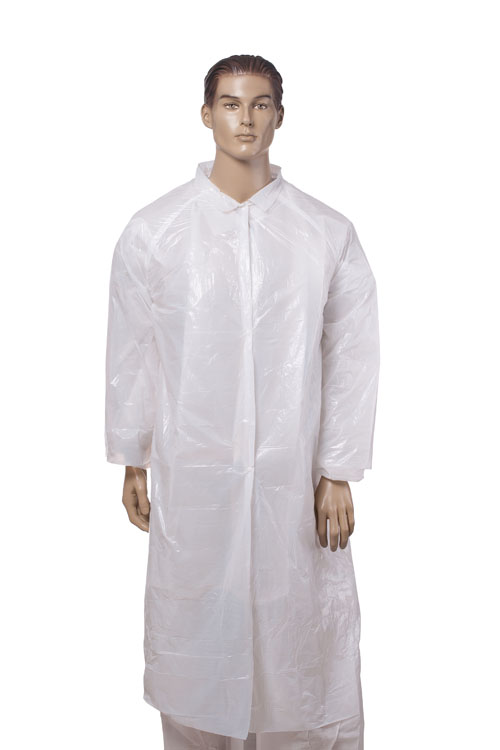 Features:
1. High structural strength with excellent tensile, tear and abrasion resistance
2. Anti-static. Helps to prevent build-up of Static Electricity, which can be a majot safety risk in certain industries
3. Breathable and comfortable preventing heat stress and providing comfortable working conditions
4. Particle Protection: holding out 99% of fibres and hazardous particles greater then 1 micron
Composition:  LDPE lab coat is short for PE lab coat made of low-density polyethylene films. HDPE lab coat is made of high-density polyethylene material.
Generally they are called disposable PE laboratory lab coat, or or simply plastic lab coat. For the present HDPE lab coats are cheaper.
Whereas LDPE lab coats are better in quality. Pure or recircled materials are available.
Also spun-bonded polypropylene non-woven fabric or spunbond+melblown+spunbond non-woven fabric is widely used to make PP or SMS lab coat.
For better quality, PP+PE lab coat is a good choice for water-proof purpose. Polyethylene film coated polyprolylene non-woven fabric for disposable PP+PE lab coat is a combination of PE lab coat
and PP lab coat. Also we would supply you PE visitor coat, PP visitor coat, PP+PE visitor coat, PE rain coat, PE patient gown, PP patient gown, PP+PE patient gown, CPE isolation gown with thumb loop, PE