Description
Product Introduction
1. Disposable surgical gown, patient gown, scrub suit is made of excellent non-woven material from biggest supplier
2. Lint-free, waterproof, good tensile strength, comfortable
3. Breathable, excellent to dissipate body heat, against splatter
4. It is the best choice of disposable products in the fields of hospital, factory, cosmetology, environment protection and so on.
5. The valid period of products is 5 years.
Export Markets 
It is hot-selling in Europe, America, North America, South America, Southeast Asia, Africa, Oceania, Middle East, Eastern Asia.
The conformity declaration of products material  
In the process of production, Our Company is in strict accordance with some relevant standards to test raw materials, purchased parts as well as main supplementary materials and ensure the substandard materials not in the process of production. From the inspection of test reports, it can make sure the materials used in the production process are complied with relevant standards. Using in clinical trial, no adverse effect happens.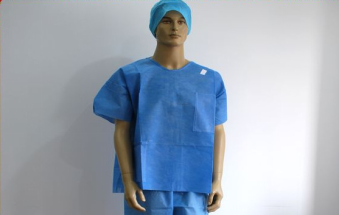 1. Material: SMS (Spunbond-Meltblown-Spunbond Non-wovens)
2. Characteristics: Anti-pull, environmentally-friendly, good tensile strength, feeling soft, non-toxic, water-resistant, air- permeable
a. SMS barrier fabric is a unique trilaminate construction that offers a high tensile strength and toughness that is also soft, drapable, and easy to work with.
SMS provides a fluid and particulate barrier to protect the worker without sacrificing mobility and comfort.
b. Spunbond layer is consist of continuous filament, with good tensile strength and elongation, Melt blown layer is consist of continuous micro fiber
3. Can be customized with different weight of material and color
4. Sanitation and quality in accordance with the CE, FDA, ISO9001 standard